Sunday, January 14th, 1:30-4:30 pm
Lotus Yoga Center, 100 Harbord St
A Special Kundalini Yoga Workshop with Daya and Santokh
A great way to start the year, detox, and consciously set intentions. You can expect a powerful Kundalini Yoga workout and meditations for a healthy kick start to the year. In this workshop you will use Kundalini Yoga and Meditation to clarify your intentions and set a vision for the year.
This 3 hour workshop includes:
Kundalini Yoga as taught by Yogi Bhajan,
a Kriya to get you moving and stretching
meditations to clear your mind and enhance your connection to your soul's purpose
guided conscious intention setting for 2018
relaxation for relief from stress and rejuvenation                                 
                         
This workshop is designed so you will experience the tools that help us to live in a balanced state of grace. The three hour format allows participants to deepen their practice through experiences that can't be achieved in a regular yoga class. Long-time practitioners and beginners alike will get a great work-out.
Come give 2018 a Kick Start and start the year off right!
$35+hst Early /$45+hst at the door
Special: Register with a Friend – 2 for $60 + hst
Payment by cheque or cash is also available.
Save with these Options
Name/Email of Participant 1
Name/Email of Participant 2
Call or Email Daya for more information: 416 674 7083, info@dayakaur.com
Workshop Location:  Lotus Yoga Centre
Address: 100 Harbord St, Toronto
west of Spadina, south of Bloor, close to Spadina Subway
Directions: Google Map: Click Here
  Meet the Teachers: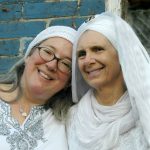 Daya and Santokh bring a heart entered approach to teaching yoga.
Daya Kaur has been living the Kundalini yogic lifestyle for 15 years. She is a Trainer for the 200 Hour Level 1 Kundalini Yoga Teacher Training.
Aruna (Santokh Kaur) has been a Certified Kundalini Yoga Teacher (IKYTA) since 1998. She is the lead trainer at Young Yoga Masters, a Yoga Alliance Registered Children's Yoga School.
Kundalini Kick Start 2018             Register Early to Reserve Your Space!